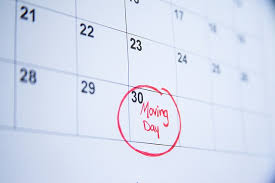 So, you have decided to move. The next big question is when to move. Many of your moving decisions will inevitably depend on your moving date, so you need to pick a date that will work for you and your family before you start planning.
At Tucson Moving Service, we want your next move to be successful. That's why this month we are bringing you some important aspects to consider when choosing a moving date.
Consider the Timing
According to the U.S. Census Bureau, over 60% of moves take place between June and October. This is because the summer season is the best time of year in regards to weather conditions. However, because of the way that seasonality affects the moving industry, you should expect rates to be somewhat higher during the summer months.
Choosing the time of day can also greatly affect your moving experience. Moving experts suggest that the ideal time to move is generally early in the morning or late afternoon, preferably during the weekend in order congested roads and rush hour traffic.
Consider Your Needs
People relocate for a number of reasons, but the most common reason is career-related.
If you are moving to start a new job, we recommend moving at least one to two weeks before your official start date. This way, you will have enough time to move, unpack, and settle into your new home.
Do you have school-age children? If so, it may be a good idea to move over the summer months, before the school year starts. Starting at a new school in the middle of a school year can be stressful, especially for young children. By moving over the summer, you can help ease this already difficult transition.
Consider the Movers Availability
Although the decision is ultimately yours to move, you should also consider your moving company's availability. The most reliable moving companies tend to get booked rather quickly, so don't wait until the last minute to hire your movers.
If know you need to move by a certain time, it's a good idea to find a moving company as soon as possible. We recommend that you book your move at least two to three weeks in advance to ensure that you get the best quality movers at the best prices.
Professional Moving Services in Tucson, Arizona
As stressful as moving can be, there some simple things you can consider when picking a moving date, that will help ensure that your move goes as seamlessly as possible.
As a premier Tucson moving company, we offer full residential moving services that are efficient, affordable, and designed around your unique relocation needs.
Contact us today for a free quote on your upcoming move! For more information on our local and long distance moving services, call Tucson Moving Service at (520) 468-8956.